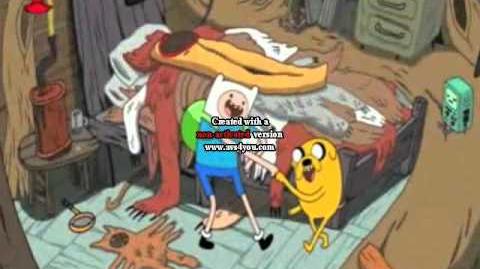 finn:yo jake waana go on an adventure. jake:where ther are no adventure around us.FINN:oh yeh D: .-PB RUSHED IN INTO FINNS HOUSE-. PB:finn finn finn! FINN:yes princess? pb:marcline she turned evil cuse her father.finn:oh no.bmo:WHO WANTS TO PLAY VIDEO GAMES!!!!.finn:NOOO! bom ahhhh finn:oh sorry bmo if i scared you. bmo:its ok. finn:ok pb tell me more info. pb:ok marcline has a demon cursed that was in her and her father both of them must kill everyone in ooo. FINN;THIS IS OOO!!!!!!!!!!!!!!!!!!!!!!!!!!!!!! -finn rushed and breaks the door and gose out.-finn sees marcline- marcline:raaaaaaaaa-being a giant bat heading for lsp. lsp;oh my freaking glob.finn:lsp look out. macrline hears finn-.marcline:finn i must kill you. lsp:lump noo.jake:il save you brother!.jake:iam not scared of anything. jake traps marcline in his stretchy body-. finn:ther must be some kind of spell to bring you back.finn;thats it the undo spell but iam not A WIZARDS.wait for part 2
Ad blocker interference detected!
Wikia is a free-to-use site that makes money from advertising. We have a modified experience for viewers using ad blockers

Wikia is not accessible if you've made further modifications. Remove the custom ad blocker rule(s) and the page will load as expected.