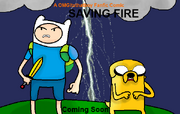 Saving Fire is a cancelled comic by OMGitsthatboy. It was gonna release on August 15, 2012.
The Flame Princess is being kidnapped by the Spark King. (oppisite of the Ice King) So Finn & Jake needs to rescue her and kick the Spark King's butt.
Characters
Edit
Finn
Jake
Flame Princess
Spark King
Arthurs (Fire Penguins)
This comic is cancelled because of laziness.
This comic is for a fan made character named Spark King.
This might be the first time Flame Princess got kidnapped.
Ad blocker interference detected!
Wikia is a free-to-use site that makes money from advertising. We have a modified experience for viewers using ad blockers

Wikia is not accessible if you've made further modifications. Remove the custom ad blocker rule(s) and the page will load as expected.