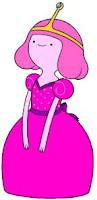 By: a.k.a master (a.k.a john noel)
disclaimer: you can understand the story if you read part 1. i made part 2, so enjoy reading :)
[Candy kingdom – 9:00 am]
PMB (A.K.A peppermint butler): Ms. Bonnibel x2, here's your sweet breakfast in the sweet morning. Ms. Bonnibel?
(He open the door and surprisingly he saw PB was lying at the floor. He drop the tray with full of candies, and he run towards PB.)
PMB: Ms. Bonnibel! Are you ok!? (worried peppermint)
(He shakes PB'S head suddenly, she was awake)
PB: uugghh? Where am i? (said PB in a low voice)
PMB: your room Ms. Bonnibel. What happen to you last night?
(PB stands up and she looking at the mirror. When she look, she recognize herself)
PB: what happen to my body! (shouted PB in surprise)
PMB: I don't know Ms. Bonnibel? but, you turn into 14 years old.
PB: what!
(suddenly, PB's eyes turn into blackish-red because of the effect of the love potion that ice king made.)
PMB: something wrong MS.-
PB: I must to get Finn!
(She runs out until she at the treehouse)
PMB: no Ms. Bonnibel! what happen to her?
[Marcy's house – 9:10 am]
Marcy: man, what happen me last night (said marcy with a dizzy head) maybe I'll get a tomato juice to get off this headache.
(She floats down to the ladder, goes the refrigerator, opens it, and gets the tomato juice.)
…………………………………………………………………………………………………………………
a.k.a master: is it tomato juice good? (he gets a tomato juice and drinks it. Suddenly, he spit out the tomato juice.) what the!
What kind of a juice is this! It's Even worse than that I drink the vegetable shake! *throws up*
………………………………………………………………………………………………………………………
[Back to the story]
(meanwhile, she looks herself at the reflection of the mirror, when she recognize herself, she surprise)
Marcy: what the horseback! I turn into 400 years old!
……………………………………………………………………………………………………………………..
a.k.a master: 14 years old ok. I estimate Marcy's age. When I estimate,
………………………………………………………………………………………………………………………….
(suddenly, her eyes turn into grey because of the of the potion)
Marcy: I mu-must t-to get Finn!
(She grabs her hat and float away towards to the treehouse)
[Treehouse – 9:30 am]
Finn: Jake, what's for breakfast?
Jake: Meatloafs
Finn: Meatloafs ! Cool!
(Suddenly, there's someone knocking at the front door)
Jake: can you open the door finn.
Finn: fine
(He opens the door and he saw FP,PB, and Marcy argumenting each other)
Finn: PB ! marcy! What happen to your body?!
Them : turn into 14 years old!
Finn: ok x2. Calm down, why did you two change into 14 yrs. Old just like my age?
PB: don't know, Don't care. Finn, I have a word for you that you'll never forget in your entire life or in the whole galaxy.
Finn: wh-what is it th-then (said Finn nervously when she say that)
PB: do you remember that you said that you love me but I didn't love you back.
Finn: yeah (said Finn in a low voice)
PB: I love you 1000000%
Finn: o\\\\\\o th-thanks
Marcy: LOL, that's to corny
PB: can you make even better than that. (Said PB jealously)
Marcy: yeah, watch. Finn do you remember that you want to go to the movie night and and as your "friend"
Finn: yeah?
Marcy: NEXT TIME IF IT'S MOVIE NIGHT, I'LL BE YOUR GF
FP: WHAT ! I'm his GF! Or I'll burn you two alive!
PB: no! his mine! Or you'll sent into the dungeon forever!
MARCY: His mine you idiots or I'll suck your blood off!
(FInn is walking backwards toward Jake)
Finn: Jake, help me
Jake: why?
Finn: marcy and PB turn into 14 yrs. Old but, FP an them are fighting because of me.
Jake: what were they fighting for?
Finn: all of them are in love with me
Jake: WHAT!
Finn: help me jake. Homies help homies
Jake: ok
(Jake walks outside to talk to them)
Jake: what's the matter with you three!
Both: for Finn!
Jake: if you want Finn to be yours, we shall have contest. If one survive, finn will be yours! Agree
(They nodded the agree)
Jake: good, get ready because the contest will start 12'o clock in the afternoon.
(They leave to get ready)
……………………………………………………………………………………………………………
a.k.a master: Who will win Finn's love? FP? Marcy? Or PB? find out to my next fanfic soon.
Russel: dude! There's a PSP vita at the shop! And it's 75 % off! Hurry! We only one hour!
a.k.a master: really! Cool!
To be continued
Ad blocker interference detected!
Wikia is a free-to-use site that makes money from advertising. We have a modified experience for viewers using ad blockers

Wikia is not accessible if you've made further modifications. Remove the custom ad blocker rule(s) and the page will load as expected.