Lea is a nice and brave kitten. She is from the fire kingdom. S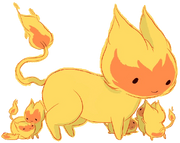 he is flambo's sister.
                                                                                                                           Gender Female                                         
                                                                                                                                    Age 1    

                                                                                                                                Species Cat

Relationships
Edit
Lea is good friends with Finn. But they sometimes they get in fights.
Lea never met Jake.
Lea is Flambo sister but they don't get along.
Flame Princess
Edit
Lea loves FP they are BFFs
Ad blocker interference detected!
Wikia is a free-to-use site that makes money from advertising. We have a modified experience for viewers using ad blockers

Wikia is not accessible if you've made further modifications. Remove the custom ad blocker rule(s) and the page will load as expected.