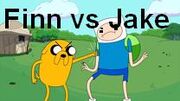 Finn and Jake start fighting unknowingly that It's the Ice King's plan to break them apart.
Round 1
Finn kicks butt down and stomps Jake. After become friends, Jake decides to sneak up in him and punch him in the arm Jake wins at the end.
Round 2
After Finn's revival, he goes home to see whats happening seeing that Jake and his (Jake's friends not Finn's friends) friends. He gets mad and sets round 2. After Finn defeats (thinking killed) he feels hurt and discovers that it was all Ice King behind it!
Round 3 Final part
Finn kills Ice King only wishing he could have his friend back. Suddenly Jake appears setting up a record. Finn realizes he is alive. And they party.
Trivia
This is based on my 3 videos on Cartoonnetwork.com's Mixit Video Creator, They are
Finn Jake Fight (round 1)
Finn's Jake Slam (round 2)
Evil Ice King's Time (round 3)
Ad blocker interference detected!
Wikia is a free-to-use site that makes money from advertising. We have a modified experience for viewers using ad blockers

Wikia is not accessible if you've made further modifications. Remove the custom ad blocker rule(s) and the page will load as expected.