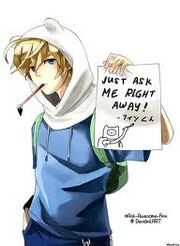 "There's a clocktower in Hereford where the names of the dead are inscribed. We try to honor their deeds even as their faces fade from our memory. Those memories are all that's left, when the bastards have taken everything else."
- Finn's words after Jake dies
Finn is the main character of Adventure Time Knapford Edition.
Information
Edit
Finn (born March 21 1998) is a main character and sub protagonist of Adventure Time Knapford Edition. He is a 16 year old boy who wants to become a true hero like his older brother, Leonard. He went boom boom on a leaf until Jake's parents found him on the leaf. It was revealed on "Finn and Fionna" that he has a twin sister named Fionna, and by the time he returned on Adventure Time Knapford Edition, he finds his brother Leonard.
When Finn says his last words to Jake, It is the same to what Price says about Soap to Baseplate on Modern Warfare 3.
Ad blocker interference detected!
Wikia is a free-to-use site that makes money from advertising. We have a modified experience for viewers using ad blockers

Wikia is not accessible if you've made further modifications. Remove the custom ad blocker rule(s) and the page will load as expected.