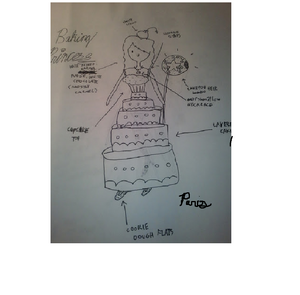 Baking Princess is a hand drawn fan art. Her real name is Angie, but some tease and call her Angie-Wanangie. She lives on the East side of Candy Kingdom with her adorable pets.
Apperance:
Edit
Baking princess usally wears her wearable sweet foods collection. If not she wears a casual long sleeved grafic tee-shirt and skinny jeans with tan buttoned boots. Rarely, she wears her cookie dough flats. Baking Princess has carmel-ish hair and various chocolates with a cherry crown on her head.
Lila is one of the many pets Baking Princess owns. She is a orange cat with a waffle body which has butter and syrup on it. When Lila belches, small heart shapes come out of her mouth. Lila was found near a hatch far from the candy kingdom. When Baking Princess found her, there was a large blonde woman with a black cat hat and a torn short dress running towards a tree fort in the rain. Baking Princess tresures Lila very much.
Brittany is also a pet and has a cookie body. Brittany has only appered twice in Adventure Time, because she usally hides. When she did apper, it was when she hopped, sprinkles poured on the ground. She is mysterious and sometimes stares at people with large white and black eyes. According to Paris-the-Adventurer, she can turn into scary objects like Marceline, and intrestingly found near Marcelines cave.
Lucky is Baking Princesses first pet. He is a free-spirited light brown dog who loves her very much. When out walking alone one day, he found a nuclear bomb sniffed it and a small bit sprayed on him. When he returned, he could fly as he could also leave a trail of rainbows.
Ad blocker interference detected!
Wikia is a free-to-use site that makes money from advertising. We have a modified experience for viewers using ad blockers

Wikia is not accessible if you've made further modifications. Remove the custom ad blocker rule(s) and the page will load as expected.