Home
Talk

9
1,620pages on
this wiki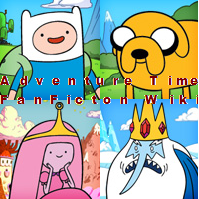 Hello ladies and gentlemen of all ages, welcome to the Adventure Time Fan Ficton Wiki; a place where you can bring your dreams and imaginations to life, posting them into reality. Everyone here welcomes your creative thinking, and we hope we can help you as much as you can help this Wiki.
Right now, there are 1,620 articles and growing! Hopefully you can add to that figure. See you soon!
Announcements
I am pleased to announce the creation of an Adventure Time Fan Fiction Wiki Forum. If you would like to participate in the creation of this forum and/or moderate it, send me an application as to why you would and why I should let you. --OmniGelios 6:14 PM, December 2nd
Site changes are in effect. Expect great improvements! --Niktendo7 07:03, June 8, 2012 (UTC)
The Adventure Time RP plot is up! (Sorry it took so long, I've been really busy lately).~Omni Gelios
A new feature has been added to your profile pages, "Message Wall". You will now be given notifications about new messages and who sent them. Give me some feedback on the new feature, I hope you enjoy it! Niktendo7 22:41, February 1, 2012 (UTC)
The Adventure Time RP is up! (Plot will come soon) ~OmniGelios
Thinking of starting some sort of Adventure Time RP. Let me know what you think on my talk page! ~OmniGelios
A new and more user friendly chat is available now. Check it out! ~Niktendo7
Finntheditor and Niktendo7 are the new admins! ~OmniGelios
Helpful Wiki Tips
When you're editing, always organize your articles into headers and sub-headers. It will look much nicer than keeping it together in one big page, and it will help other users find the section that they are looking for in your article.
When you create an article, be sure to categorize them appropriately into one of the main categories; Adventure, Characters, Villains, Objects and others; it'll make finding your articles a lot easier.
Use the community as your helpdesk! If you can't do something or something's going on which is not right, then ask fellow users and admins for help. If we can't help, then you could ask on the Help Wiki!