Adventure Time: The Movie
Comments

45
1,748pages on
this wiki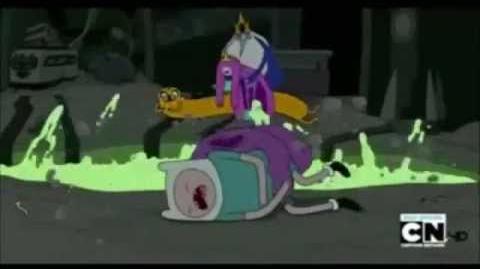 Adventure Time is the first Adventure Time movie that will released in theaters on July 18, 2014, on DVD, Blu-ray and Blu-ray 3D on December 2, 2014, and on air to HBO, HBO Family, HBO Comedy and HBO Signature on June 6, 2015, to Cinemax and Moremax on July 11, 2015, to Cartoon Network on October 20, 2016, to ABC on November 22, 2017 (as in ABC's Home for the Holidays), ABC Family on December 1, 2017 (as in ABC Family's 25 Days of Christmas), to Disney Channel on January 1, 2018 and to Disney XD on January 12, 2018.
The Land of Ooo is in great peril and The gigantic cookie Is stolen. The Lich schemes to destroy all of existance. With Ooo in danger, Finn and Jake will need to team up with other people in the land of OOO with snow out of the land of OOO, but can they save their world in time before it becomes destroyed?
The Movie Starts 996 Ago.... The Great Mushroom War,Planes And Military Things Fight Back...A Little Vampire Girl Named Marceline's Dad Was Lost.She Cryed,When A Man Stepped Forward And Cheered Her Up.He Gave Her A Doll,And his Name Was Simon.To Be Continued
Characters
Edit
Gunter (Speaking)
Banana Man
Cubler
Mountain-Of-Snow Giant (Debut)
Cute king
Lemongrab 2
Wildberry princess
Breakfast princess
Toast princess
Gumball Watterson (from episode "The Colossus" watch in BMO's screen)
Darwin Watterson (from episode "The Colossus" watch in BMO's screen)
Richard Watterson (from episode "Christmas" in BMO's screen)
Bear
Bears
Mr.Robinson (Speaking cameo)
Lemon people
Jeremy Shada (Himself)
Pendelton Ward (Himself)
Zachary Gordon as Finn
John DiMaggio as Jake
Hyden Walch as Princess Bubblegum
Olivia Olson as Marceline
Tom Kenny as Ice King
Pendelton Ward As Lumpy Space Princess and Banana Guards
Jessica DiCicco as Flame Princess
Niki Yang as Lady Rainicorn and BMO
Maria Bamford as Kim Kil Whan
Anne Hathaway as Fionna
Roz Ryan as Cake
Neil Patrick Harris as Prince Gumball
Adam Sandler as Marshall Lee
Kristen Schaal as Jake Jr.
Jennifer Lopez as Dark Princess
Roger Craig Smith as Older Finn
John Cleese as Hunson Abadeer
Logan Grove As Gumball Watterson
Teresa Gallagher As Penny Fizgerald
Dan Russel As Richard Watterson
Katy Perry As Nicole Watterson
Kyla Rae Kowalewski As Anais Watterson
Kwesi Boakye As Darwin Watterson
Jim Cummings As Hector
Tara Strong as Solar Princess
Harlin Favel as Your Daddy
Stefan Asthon Frank as Mr.Robinson
Billy Crystal as Bufo
Dan Mintz as T.V.
Kevin Michael Richardson as T-Rex and Mountain-Of-Snow giant
Steve Little as Abracadaniel
Tom Kenny as Magic Man
Eddie Murphy as Gunther and Penguins
Emo Philips as Cubler
Adventure Time Theme
The Small Is Balloon - Sung by Jake,Tree Trunks and Princess Bubblegum
Princess - Sung by Ice King,Fionna and Cake
Baby Finn Song - Sung by Baby Finn (In BMO's screen) and Jake
my Dream - Sung by Finn
Friend - Sung By Jeremy Shada (Himself as the Live-Action sequences),Finn and Jake
I Will Not Bow - Sung by Marsha,Fionna,Ice King and cake as background music
Baby Finn Rock - Sung by Finn,Jake and BMO
Adventure Time theme - Sung by Choir
This Is War - Ending theme
Chasing The Sun - Ending theme
Jake was return in the movie Steven Universe Meets Jake and Adventure Time 2: Ultimate Revenge.
Pendelton Ward and Jeremy Shada was the first appearence.